JTAG Emulator PARTNER-Jet, High-speed multi-function JTAG Emulator

JTAG Emulator PARTNER-Jet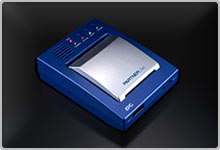 PARTNER-Jet is an excellent JTAG Emulator to meet the needs for today's embedded software development. With PARTNER-Jet, you can debug wide range of systems from existing embedded systems through advanced complex systems. In addition, PARTNER-Jet supports Multi-core CPU/SMP, Linux, and Windows CE debugging.
Product Catalog

Fast data download
3MByte/sec (target memory)
10MByte/sec (emulation memory)

High-speed trace clock (200MHz)
High-speed data writing into Flash Memory
Giga Trace support (Model 40 only)
PARTNER-Jet Model 40 has 8Gbit of huge built-in Trace Memory. It allows to save several billions of instruction execution histories and CPU execution histories for approximately 10 seconds. (ARM11 CPU 400MHz)
A single PARTNER-Jet supports various core family
(e.g. PARTNER-Jet for ARM supports from ARM7 family to ARM11 family series without additional cost)


A single PARTNER-Jet supports different type of CPU cores by adding optional debug software
(e.g. ARM, MIPS, SH etc)

Sophisticated debugger, PARTNERver.5

SnapShot Debugger
SnapShot Debugger can store CPU status, physical memory contains, and real-time trace data as a SnapShot file just like taking a snapshot.

Event Tracker
Event Tracker graphically displays thread and process switching in RTOS and helps to analyze the developed software.

Embedded OS Support (Linux, Windows CE, T-Engine)

Advanced Linux Debugging
It has been believed that it is very difficult for ICE to support logically multiplexed virtual spaces where the Linux applications are running. KMC has been working on this challenge and the PARTNER-Jet successfully cleared it.

Windows CE Debugging
With PARTNER-Jet, developers can develop the software for Windows CE embedded devices, and also evaluate the Windows Embedded CE performance from the CPU level through application level.

Eclipse Support
By installing PARTNER-Jet plug-in to Eclipse, you can utilize all the debug functions of PARTNER-Jet on Eclipse IDE.

Multi-core CPU/SMP Support
PARTNER-Jet's super high-speed exclusive access control and virtual technology creates a debugging environment that simulates a platform to which multiple ICE and JTAG debuggers are connected.