KZM-CA9-01 MPCore
ARM
Cortex-A9 MPCore Quad Core (L2 cashe)
SMP Linux included
NEON technology support
SOLD OUT
Please check out the new low-cost Cortex-A9 evaluation board,
KZM-A9-Dual
Feature
ARM Cortex-A9 MPCore (Supplyed by NECEL) based Evaluation board
Cortex-A9 with L2 casche inside x 4 core
Rich peripherals on Mini-ITX size board
Developers can immediately evaluate the Cortex-A9 with included SMP Linux
Specification
CPU

ARM Cortex-A9 MPCore ( x 4 cores) 400MHz
L2 Cache 256Kbyte

Memory

DDR SDRAM 512MByte on board implemented
NOR Flash 64MByte
NAND Flash 256MByte

Peripheral

LCD/Touch panel
SD/USB/LAN/UART/AUDIO
PCIe-X4, PCIe-X1, Mini-PCIe
JTAG Debug connector

Power

ATX or AC Adopter (3.5A)
Size

Mini-ITX standard size

KZM-CA9-01-STD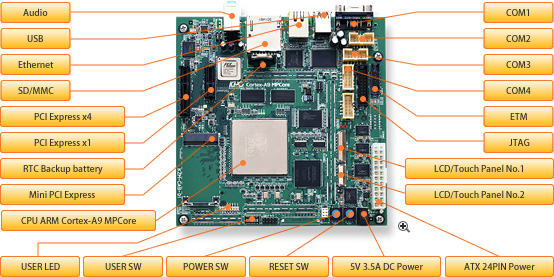 KZM-CA9-01-LCD
The KMC KZM-CA9-01 provides the complete package to evaluate ARM Cortex-A9 MPCore. It realizes the next generation low-power and high performance applications by utilizing the latest multi-core technologies. The CPU configured by four of Cortex-A9 which equipped L2 cache. With the size of Mini-ITX, KZM-ARMCA9-01 evaluation board has rich peripherals such as LCD/touch panel, SD, USB, LAN, and JTAG debug connector.
The combination of KZM-CA9-01 evaluation board and PARTNER-Jet, high performance JTAG Emulator enables to maximize the evaluation and application development for ARM Cortex-A9.
PARTNER-Jet supports ARM Cortex-A9 processor and also supports ARM CoreSight debug architecture. It provides effective and rich debug solution for ARM processors.
ARM NEON technology has been supported. You can debug Multi-core, SMP, Windows Embedded CE and Linux with the PARTNER-Jet.
The users who have already been using PARTNER-Jet can debug Cortex-A9 by just updating debug software. Experience the advanced ARM Cortex-A9 performance by the combination of KZM-CA9-01 and PARTNER-Jet.